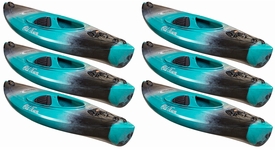 Heron Jr. Kayak Wholesale Package
Product Description
Kids, this is your boat. And what a performer! We designed Jr. to be nimble and maneuverable for the smaller paddler. Extremely efficient for its size, this lightweight kayak glides well and tracks straight. You'll also find plenty of stability for those family splash fights. Of course small arms can get tired after all of that paddling and splashing, so we also included our innovative Tag Along Tow System, making it easy to tow 'em to shore if need be.

Heron Jr. Kayak Wholesale Package Features:

Tag Along tow system
Extremely lightweight
Contoured padded seat designed to fit kids
Foam billet
Bow and stern carry handles
---
Boat Specifications:
Wholesale Package
Includes: 6 - Heron Jr. Kayak
Length: 7' 5"
Width: 25"
Cockpit: 35" x 16.25"
Deck Height: 10.5"
Weight Capacity: 115 lbs.
Weight: 26 lbs.

---